Data From the Author
References
Geospatial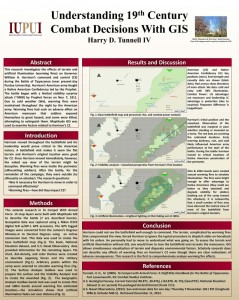 This poster describes research, using a Geographic Information System (GIS), to investigate the adverse impact of artificial illumination and terrain on General William H. Harrison's ability to command during the Battle of Tippecanoe. It was the 3rd place award winning poster at the IndianaMap 2013 poster competition.
The research demonstrates a novel use of GIS technology to explore a historic event. Performing a similar investigation by conventional means would be expensive and could result in damage to the battlefield, which is a historically significant national historic landmark.
Get your downloadable version of the poster here.
Audio
Audio files containing period music, military commands, and other representations of 19th century life can be useful for enhancing history presentations, instructional materials, and publications. All of the recordings were made during living history events in crowds. The recordings contain background noise that could not be fully removed during editing without further degrading the quality of the recording.
#01 19th Century Period Music – Violin
#02 19th Century Period Music – Violin
#03 19th Century Period Music – Indian Drums

Except where otherwise noted, content on this page is licensed under a Creative Commons Attribution 4.0 International License.